RSS
Next Generation 40 Gb/s Thunderbolt™ 3
Thunderbolt™ 3 – The fastest 40Gb/s single-wire connection
Intel® Thunderbolt™ 3 Certified Motherboard


Powered by Intel's own Thunderbolt controller the new Thunderbolt™ 3 protocol, which is available over a USB Type-C™ connector on the back I/O of the motherboard, brings an unprecedented single-wire bandwidth of up to 40 Gb/s – twice more than the previous generation of Thunderbolt! This incredible increase in bandwidth is also accompanied with support for different protocols such as DisplayPort 1.2 and USB 3.1, which is backwards compatible with USB 3.0 and USB 2.0, opening up a world of new possibilities.
To upgrade the motherboard, go to "Downloads".
Free Upgrade to Thunderbolt™ 3
Daisy-chain multiple devices

Support for DisplayPort 1.2 makes Thunderbolt™ 3 a must have for any enthusiast. The motherboard is able to support a display in 4K resolution at 60 FPS. In addition, Thunderbolt™ 3 over USB Type-C™ has revolutionary industry-first features such as Power Delivery 2.0, and the ability to daisy-chain up to 6 devices thanks to the USB Type-C™ port.
Compatibility may vary according to system configuration and device specifications.
| | |
| --- | --- |
| | GIGABYTE G1™ Gaming Motherboards |
The Intel® USB 3.1 controller utilizes 4 PCIe Gen3 lanes, offering up to 32 Gb/s of total bandwidth, for uncompromised transfer speeds of up to 10 Gb/s per USB 3.1. With twice the bandwidth compared to its previous generation, and backwards compatibility with USB 2.0 and 3.0, the much improved USB 3.1 protocol is available over the new reversible USB Type-C™ and the traditional USB Standard-A connector for better compatibility over a wider range of devices.
LED Trace Path with Multi-Color Choices
Personalize your next PC rig to your liking by selecting the color of your choice to illuminate the LED trace path lighting. A total of 7 colors are available to make your system appearance unique!
Rear Panel LED
Fast Intel® 750 Series 2.5" SSD Support via M.2 to U.2 Add-in-Card


GIGABYTE motherboards support the latest consumer NVMe SSD for truly amazing performance

Experience the future of storage performance for desktop client and workstation users with the Intel®SSD 750 Series. The Intel®SSD 750 Series delivers uncompromised performance by utilizing NVM Express over four lanes of PCIe 3.0.

22 Phases Digital Power Delivery Design
For its 100 series motherboards, GIGABYTE features a 22 phase power delivery design equipped with 4th gen. IR® digital power controllers and 3rd gen. PowIRstage® ICs featuring Isense technology, which provides more precise current sensing accuracy. This helps evenly distribute the thermal loading between the PowerIRstage® ICs, preventing the overheating of each individual PowerIRstage®, resulting in longer lifespan and better reliability.


Water Block Thermal Design with G1/4 Threaded Fittings
Tube connectors at each end of the heatsink provide easy integration with any water cooled system. These technologies help combat high temperatures by effectively removing heat from critical areas of the motherboard such as the CPU VRM zone, allowing it to remain cool, even when the battle heats up.
GC-USB3.1 BAY
GIGABYTE USB3.1 5.25" Front Bay Expansion Port
• USB Type-C™ supports USB Power Delivery 2.0 (Profile 5) delivering 100 watts power
• x1 future-proof reversible Type-C™ connector
• x1 popular Type-A connector
• Supports USB 3.1, USB 3.0 and USB 2.0
• High-quality steel construction
• Fits in standard 5.25" drive bay
• Uses SATA-Express interface to provide USB3.1 support for up to 10Gb/s data-transfer speed

Killer DoubleShot-X3™ Pro
Automatically prioritize your game network needs over the fastest available connection for high quality, lag-less and uninterrupted gaming connectivity.
2 Killer GbE + 1 Killer WiFi
The Killer DoubleShot Pro™ X3 allows three killer interfaces to work together for the best networking by freeing the highest bandwidth to the most important traffic, allowing you to multitask without affecting your performance.
Connecting the Future - USB Type-C™:
The World's Next Universal Connector Reversible USB Type-C™ with USB 3.1
The USB Type-C™ is a new reversible connector that is loaded with useful features such as USB 3.1 support for 10Gb/s transfer speed. Powered by the Intel® USB 3.1 controller, this little port provides the best USB Type-C™ experience possible.
* Display feature may vary by model.
Industry Leading Ultra Durable™ PCIe Metal Shielding
| | |
| --- | --- |
| | The innovative one piece stainless steel shielding design from GIGABYTE reinforces the PCIe connectors to provide the extra strength required to support heavy graphics cards. |
USB DAC-UP
The above photos are for reference only.
Clean, low-noise power for your Digital-to-Analog Audio converter

GIGABYTE USB DAC-UP provides clean, noise-free power delivery to your Digital-to-Analog Converter. DACs can be sensitive to fluctuations in power from the other USB ports, which is why GIGABYTE USB DAC-UP takes advantage of an isolated power source that minimizes potential fluctuations and ensures the best audio experience possible.



15μ Gold Plated CPU Socket Design

GIGABYTE motherboards come equipped with a 15 micron thick gold plated CPU socket, which means that enthusiasts can enjoy absolute reliability and longevity for the CPU socket overtime, without having any concerns about corroded pins or bad contacts.

Next Generation SATA Express
SATA Express combines the benefits of PCI Express and SATA to provide much higher bandwidth, featuring data transfer rates of up to 16Gb/s.
The above photos are for reference only.
Long Lifespan Durable Black™ Solid Caps
GIGABYTE motherboards integrate the absolute best quality solid state capacitors that are rated to perform at maximum efficiency for extended periods, even in extreme performance configurations. With ultra-low ESR no matter how high the CPU load, this provides peace of mind for end users who want to push their system hard, yet demand absolute reliability and stability. These exclusive capacitors also come in customized jet black, exclusively on GIGABYTE motherboards.

Turbo B-Clock:
Built-in Advanced Performance Tuning IC
Thanks to the onboard TURBO B-Clock Tuning IC, GIGABYTE Motherboards enable overclockers to have the ability to change their BCLK frequency to a desired value of their choice. With the new linear range adjustment option of the Tuning IC, ranges from 90MHz to 500MHz are now possible, so that overclockers are not limited to the 5% ranges of traditional straps.
*Turbo B-Clock overclocking range may vary according to CPU capabilities.
All New GIGABYTE App Center Including EasyTune™, Cloud Station™ Utilities and More
GIGABYTE's EasyTune™ is a simple and easy-to-use interface that allows users to fine-tune their system settings or adjust system and memory clocks and voltages in a Windows environment. With Smart Quick Boost, one click is all it takes to automatically overclock your system, giving an added performance boost when you need it the most.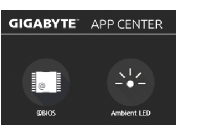 GIGABYTE App Center gives you easy access to a wealth of GIGABYTE apps that help you get the most from your GIGABYTE motherboard. Using a simple, unified user interface, GIGABYTE App Center allows you to launch all GIGABYTE apps installed on your system.
Get the highest levels of performance from your PC with easy to use GIGABYTE overclocking features.
GIGABYTE Cloud Station™ is composed of several GIGABYTE unique apps that allow your smart phones/tablet devices to communicate, share resources, and control your desktop PC via a wireless connection.
Dual PCIe Gen3 x4 M.2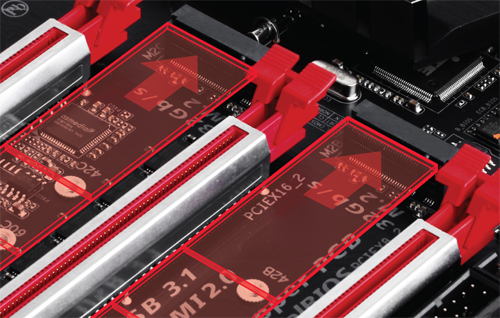 With two PCIe Gen3 x4 M.2 connectors onboard, GIGABYTE brings to the user PCI-Express connectivity for SSD devices. Delivering up to 32 Gb/s data transfer speed per connector, the dual M.2 provides an ideal storage solution as it also supports RAID modes.
The above photos are for reference only.
HDMI™ - The Next Generation Multimedia Interface
HDMI™ is a High-Definition Multimedia Interface which provides up to 5Gb/s video transmitting bandwidth and 8-channel high quality audio all through a single cable. Able to transmit superior, uncompressed digital video and audio, HDMI™ ensures the crispest rendering of digital content up to 1080p without the quality losses associated with analog interfaces and their digital-to-analog conversion. In addition, HDMI™ is compatible with HDCP (High-bandwidth Digital Content Protection), allowing the playback of Blu-ray/HD DVD and other protected media content.
4K Ultra HD Support
4K resolution is the next technological milestone in high-definition content delivery, utilizing approximately 4,000 pixels on the horizontal axis, more than four times today's standard HD pixel density. GIGABYTE motherboards provide native 4K support with integrated Intel® HD Graphics via HDMI.
Onboard Discrete Card Level Audio Design
Creative Sound Blaster Certified
High End Nichicon Fine Gold and WIMA Audio Caps
| | |
| --- | --- |
| | With its 100 series, GIGABYTE introduces a combination of Hi-Fi grade WIMA Capacitors and Nichicon audio grade Fine Gold capacitors. While the Nichicon Fine Gold capacitors are suited for high-grade audio equipment, using state of the art technology to provide rich sound in the bass and clearer high frequencies, the WIMA FKP2 capacitors are being used widely in premium grade Hi-Fi systems. The addition of this to the AMP-UP Audio technology makes for the ideal onboard sound solution for the most demanding audiophiles. |
AMP-UP™ Audio Technology with Triple Upgradable OP-AMPs
| | |
| --- | --- |
| | GIGABYTE offers true sound customization with its triple upgradable OP-AMP solution. To ensure users receive the best sound profile matching their needs and experience the most enjoyable audio, GIGABYTE has included an OP-AMP for both left and right channels on the rear I/O as well as a dedicated OP-AMP for the front audio jack. |
Creative SBX Pro Studio™ Audio Suite
SBX Pro Studio™ suite of audio playback technologies deliver a new level of audio immersion. Realistic surround sound, the ability to clearly hear specific sounds in a gaming environment are just a few elements of SBX Pro Studio that enhances the overall experience, be it movies, games or music.
GIGABYTE AMP-UP Audio™ Technology
This motherboard is equipped with the GIGABYTE exclusive AMP-UP Audio Technology, which provides the industry's highest level of onboard audio features and technologies. With GIGABYTE AMP-UP Audio, gamers and audiophiles are able to experience crisp, ultra-realistic sound effects while gaming, and the richest possible sound experience when listening to their favorite music and movies.
HDMI 2.0 for 4K / 60P / 21:9 / HDCP 2.2 Support
| | |
| --- | --- |
| | HDMI 2.0, which is backwards compatible with HDMI 1.4, offers 18 Gb/s of bandwidth – nearly twice that of the previous generation. This unlocks the potential for users to transfer multiple video streams, as well as a native cinematic 21:9 ratio (which most movies are shot in), offering the best visual experience for viewers. |
Q-Flash Plus
Q-Flash Plus
Updating your BIOS on your GIGABYTE motherboard can be done in a flash – even without memory or CPU onboard. Utilizing the EC Controller, the BIOS on your GIGABYTE Motherboard can now be updated through Q-Flash Plus even if your system is unable to boot. An LED next to the EC controller will notify you once the procedure is complete and you are ready to boot your system normally.
*USB thumb drive not included.

Extreme Multi-GPU Support





Maxed Out Graphics


Unleash the ultimate in graphics configurations. Support for up to 4 full length discrete VGA cards.

Total Realism:




Enjoy the latest gaming titles with maxed out 'Ultra High' settings.




See More Action:




Get smooth frame rates on High Resolution 1440p Displays.
* The entire materials provided herein are for reference only. GIGABYTE reserves the right to modify or revise the content at anytime without prior notice.
* Advertised performance is based on maximum theoretical interface values from respective Chipset vendors or organization who defined the interface specification. Actual performance may vary by system configuration.
* All trademarks and logos are the properties of their respective holders.
* Due to standard PC architecture, a certain amount of memory is reserved for system usage and therefore the actual memory size is less than the stated amount.